11-M Anniversary marked by union protest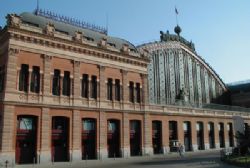 Today marks the 8 year anniversary of the Madrid train bommbings - commonly referred to as the 11-M bombings - which killed 191 people and injured almost 2'000 when an early morning suburban commuter train was the target of a terrorist attack.
However, the respectful observance of the date commemorated over recent years has been brushed aside this year as Spain's two main unions - the UGT and CCOO - have arranged protest marches through the city of Madrid in demonstration over recent reforms to the country's employment laws .
On Friday of last week the Unions also called a general strike for March 29th .
Many have criticised the Unions for showing a lack of respect for the victims of the attack and their families, however they claim that the protest march will avoid Atocha train station, where the attack tool place, and the Puerta del Sol square in the heart of the city.
Meanwhile, the President of the Association of the victims of terrorism, Pilar Manjon, has defended the right of the Unions to protest on the date, saying how nobody has exclusive rights to the date.