Iberdrola in talks with regions over electric vehicle sharing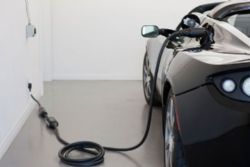 Iberdrola has already installed over 100 recharging stations for electric vehicles across Spain, with plans in place to introduce many more over the coming years.
The company has also set up a an electric car sharing scheme for its employees, where more than 300 of their staff in 6 cities use this type of vehicles for their work-related urban travel, producing zero emissions and practically no nois
Iberdrola also recently became the first company in Spain to introduce a car-sharing service for the public in the Guipúzcoa , where vehicles are hired to the public on an hourly rate, and are currently in negotiations with Pamplona City Council to offer a similar scheme there.
Under their "Green Mobility Solution", which was launched in 2010, Iberdrola provides customers with the opportunity to purchase an electric vehicle, a 100% renewable energy supply and the system required to charge the vehicle.
The regions of Castile and León; Valencia; the Basque Country; Murcia; Madrid; Andalusia; Catalonia and Extremadura are also in negotiations with Iberdrola over their useage of the scheme, as are a number of Government departments on a national level.
Talks are also being held with a number of major car manufacturers, notably Peugeot, Mitsubishi, Opel and Seat.
Iberdrola has also introduced a new role in the energy sector of "Recharging Manager", following the amendment of the Electricity Sector Act of April 2010 and the subsequent implementing regulations in Royal Decree 647/2011. This basically allows recharging managers to both consume and resell electricity, for the purpose of recharging an electric vehicle.