Iberia reports pilots have called off strikes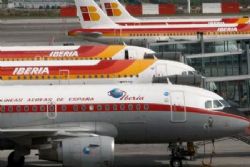 Pilots at Spanish airline Iberia have called off a series of strikes intended to protest against the start-up of a low-cost airline, a spokeswoman for Iberia said on Tuesday.
"They (the pilots) have accepted the proposal to have a mediator," a spokeswoman told Reuters. Pilots union Sepla was not available to comment.
Pilots who work for the airline, part of International Airlines Group, had announced a calendar of 24 days of strikes between March 16 and May 28.
The pilots are concerned thousands of jobs will go after the start of low-cost airline Iberia Express, due to launch on March 25, that will cover routes in Spain and Europe.
Since December, Iberia pilots have already carried out 12 days of strikes and were joined in their protests from Feb. 13 by cabin crew union Stavla.
Strikes so far have caused Iberia to cancel about 1,400 flights at a cost of 36 million euros.