Ryanair introduce new route to Palma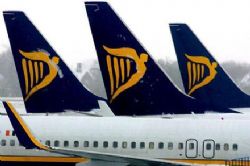 Ryanair yesterday announced the creation of a new route between Palma de Mallorca airport and Groningen in the Netherlands, which to commence May 16th and run on Wednesdays and Sundays.
The airline's head of sales and marketing in Spain, Luis Fernandez-Mellado, told the press that "Ryanair will operate a total of 55 routes in the summer of 2012 to celebrate the establishment of the hub at Palma de Mallorca".
Fernandez-Mellado went on to explain how the relative economic prosperity currently being seen in the Netherlands is expected to lead to more Dutch people taking foreign holidays in the Balearics.
As such, Ryanair has another route established from Palma to the south of the country, at Eindhoven, which he notes is very popular and has a positive effect on the economy of the Island.
As has come to be expected whenever the airline introduces a new route, Ryanair have a launched a campaign of celebratory reduced ticket prices for the Palma-Groningen route between 16th May - 30th June.