Ryanair cause further problems at Reus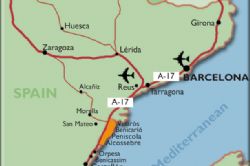 Employees of Lesma Holdings, the baggage handlers and ground crew employed by Ryanair at Reus airport, have reported that they have had no communication from the airline with regards to how many employees will be required when they resume flights in just 2 days time.
The future of the workers looked bleak in October of last year when the airline pulled out of Reus for the Winter season.
The summer season of 2011 saw Ryanair bring 20 flights per day to the airport, however operations for 2012 currently stand at just 8 flights per day. As such fewer staff will be required, who will be employed under less favourable conditions - something which the CCOO union has already criticised Ryanair for.
The CCOO union representative for Lesma Handling, Paco Cebrian, believes that about 25 positions are 'safe'(out of the previously 20 permenant and 42 temporary staff employed), however, on contracts that guarantee less than 40 hours per week, and at salary levels that are 25% less than previous.
Cebrian also noted how Ryanair have refused to guarantee to observe the airport's operating hours of 06.00 to 24.00, whch may compromise the staffing and security requirements at the airport.