Badajoz airport to re-start commercial flights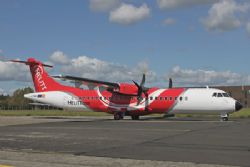 Following on from news a little over two months ago of the closure of Badajoz airport due to the last commercial carrier pulling out of the airport, news came today on a possible re-scheduling of a number of passenger flights.
Andalusia-based Helitt airlines have expressed their interest in establishing routes between both Madrid-Barajas and Barcelona-El Prat from the airport to complement the 6 routes to 5 different Spanish cities, which they currently operate.
Helitt executives said how the routes from Badajoz to Barajas and El Prat were important in connecting Extremadura to Spain's main hub airports.
The airline hopes for flights to be operational at Badajoz by the end of the month, however the decision is currently being considered by AENA executives at the airport.