Spain's central govt, not regions, will shoulder extra cuts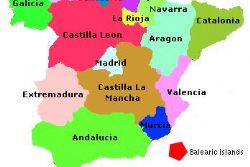 Spain's central government, not regional governments, will make the additional 5 billion euros in savings required by the country this year under a new deficit target agreed with the EU, Treasury Minister Cristobal Montoro said on Tuesday.
Spain needs to make the extra 5 billion euros in savings after agreeing a deficit target on Monday of 5.3% of GDP, following pressure from the European Commission and euro zone peers after Madrid had previously said it would only be able to cut its shortfall to 5.8% of GDP.
Montoro said on Tuesday that the central government would shoulder the burden of the additional cuts. Regional governments' targets for this year had already been set and would not be changed, he said.
"This difference will be in the central administration budget and not that of the regional administrations," Montoro said in a parliamentary debate.
It would be politically difficult for Prime Minister Mariano Rajoy to force the additional austerity onto the country's 17 autonomous regions, who provide health and education services and who are already chafing at having to cut spending by up to 15 billion euros this year.
Overspending in Spain's highly devolved regions has been one of the country's weak points as it tries to persuade investors and core euro zone leaders that its finances are solid. But too much austerity in schools and clinics could spark more social protests.
Earlier, Economy Minister Luis de Guindos said in Brussels the difference between the target Madrid had sought and the one it agreed to would not affect economic growth or unemployment expectations because official forecasts had been very cautious, leaving room for some adjustments.
De Guindos also said on Tuesday the conservative government would not touch value-added-tax this year as part of necessary austerity measures to deflate one of the euro zone's highest deficits. But he left the door opened for the future.
"It's certainly not expected that VAT will be hiked this year," de Guindos said, suggesting the government could reconsider its election promise to not touch the tax at all.
The European Commission has repeatedly suggested that Spain raise its VAT rate of 18% to bring its finances under control, though the conservative government has resisted, saying a rise would further dampen demand in an economy entering its second recession in four years.