Paramount theme park 'receives 50 applications per day'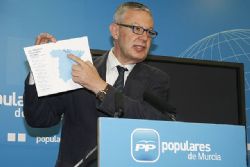 Speaking infront of the regional assembly this afternoon the Parliamentary Deputy spokesman for the Partido Popular, Jose Antonio Ruiz Vivo, told the house how the Paramount Pictures theme park project is currently receiving in excess of 50 job applications every day in hope of becoming a candidate for the 1'5000 direct and 20'000 indirect positions that are expected to be generated.
Ruiz Vivo went on to remind the Murcian assembly how the region was fortunate to attract such a project, together with Parques Reunidos who will manage the day-to-day operation of the park, and how the park will regenerate the regional economy and significantly impact the number of unemployed in the area.
He also called for the project to be transparent from the laying of the the first stone.