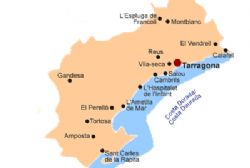 Ryanair's return to Reus airport (Tarragona) yesterday marked the first flight by the airline since their departure for the winter season at the end of October last year.
Speculation at the time was that flights may not be re-introduced for the coming summer season, however, a deal signed between the Generalitat of Catalonia and the airline secured their return. The terms of the agreement, signed in December of last year, saw the airline committing to bringing 500'000 passengers per year to Reus. The deal, worth €8 Million per year over a 5 year period, also sees the airline guaranteeing to bring 3 Million passengers per year to the region's Girona airport.
Ryanair propose to achieve this number through the introduction of 15 International and 1 Domestic routes, which will see 5 operations per day at the airport, whereas last year the activity was more than double the levels expected for 2012.
The 16 destinations served byfrom Reus summer will now include : London-Stansted; Birmingham; Bristol; Brussels; Cork; Dublin; Düsseldorf; East Midlands; Eindhoven; Frankfurt Hahn; Glasgow; Leeds-Bradford; Liverpool; Manchester; Palma de Mallorca and Luton.
299'855 to go !
Yesterday's arrival from Stansted airport carried just 62 passengers, with 83 passengers waiting to take the return journey upon the turn-around of the plane 30 mins later.
Joaquim Nin, the regional delegate for Tarragona, was at the airport to welcolm the return of Ryanair, where he explained the press that the airport was already in talks with a number of other airlines to introduce new routes to the area.