Town Hall cuts power in Endesa protest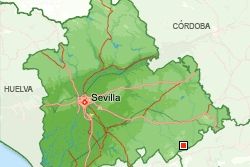 Tumbit Director, Dan Brammall, was caught up in argument between local politicans and electricity provider, Endesa on Thursday evening.
Shortly after 7pm in the evening a note from the Ayuntamiento was posted through his front door explaining that the electricity supply for the entire town would be switched off between the hours of 10pm and 11pm in protest over irregular and intermittent supplies.
The Town of El Saucejo, Sevilla, has just 4'379 registered inhabitants, however the lack of investment in the infrastrcuture providing the supply of electrcity to the town make three of four power outages per day commonplace.
The Izquierda Unida Los Verdes (IU) Ayuntamiento had sought the opinion of the locals over holding such a protest via their website before deciding upon making such a stance.
Earlier today it was reported how the Supreme Court has given permission for the electricity providers of Iberdrola and Endesa to increase their tariffs by 17% from the 1st of April .
Supplies of electricity to streetlighting and other town hall service were switched off, whilst private residences remained unaffected.