Madrid is most indebted Ayuntamiento in Spain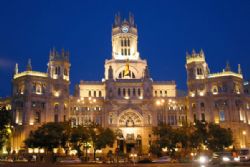 The Ayuntamiento of Madrid has been named as being the municipality with the highest level of debt in Spain, with €1.035 billion euros in outstanding payments to suppliers.
Of this amount, €920 million euros is owed to private companies, whilst a further €115 million is owed to state-owned companies.
All of Spain's Town Halls were recently required to give a detailed and accurate report on the state of their finances in order to benefit from a loan scheme introduced by the central government. The €35 Billion scheme offers loans to indebted muncipalities over a 10 year period with interest rates fixed at 5% for the first 2 year period.
Meanwhile, Barcelona currently has debts of €1.147 billion, but it will not make use of the government loan, because its debt was not due to cashflow, but by 'technical problems with invoices'.