Unemployment forecast to reach 25.3 pct by end 2013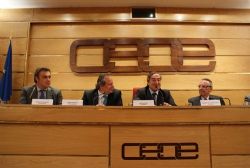 The CEOE Spanish Businesses Association has questioned the Government's ability to meet budgetary targets in 2012 and 2013 and estimates the budget gap will be 6.1% and 3.9% respectively - higher than the 5.3% and 3% Spain has committed to.
According to a CEOE report, GDP will contract 1.6% in 2012 and the number of unemployed will rise to 5.5 million people (23.8%). This will represent a further 500,000 unemployed in 2012. Although they predict that the economy will grow by 0.7% in 2013, the economy will not recover sufficiently to see any new job creation until 2014.
Forecasts by Ernst & Young are that the unemployment rate could reach 24.8% by the end of 2012 and 25.3% by the end of 2013, which would represnt 6 Million unemployed. The Global Accountancy firm estimates that this would result in a 48.6% rate of unemployment for the 16 to 24 year old age group.