El Altet passenger numbers down 13pct Y-o-Y Feb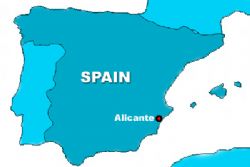 The collapse of Spaniar, the Iberia Pilot's strikes and the loss of a number of Ryanair routes have all been blamed for the falling passenger numbers arriving at Alicante's El Altet airport during the month of February.
Over the first 2 months of 2012 the airport has now lost some 120,000 passengers when compared with the same period for 2011 - a slump of 13%.
Februrary saw the arrival and departure of 455'827 passengers at the airport, 12.9% down on February 2011.
AENA management at the airport also pointed out the decrease in figures was typical of airports across the entire network and that they could also be partly explained by the current economic climate. This was demonstrated by the fact that domestic flights contributed the biggest loss in numbers with 112'499 passengers less flying last month than in February 2011 - a fall of 25%.
The effect of Ryanair's cut flights saw passenger numbers fall by 23.6% year on year, with the number of operations falling by 26.4%.