Just 922 passengers flew from 9 Spanish airports in Feb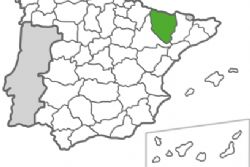 According to AENA statistics released yesterday just 922 passengers used the 9 airports of Huesca; Albacete; Reus; Cordoba; Burgos; Badajoz; Salamanca; Leon and Logrono during the month of February.
Of this number just 7 flew to Huesca, all of which arrived on private flights. Just last week it was revealled how Huesca airport welcomed 21 passengers over the course of the last 6 months following the departure of Pyrenair from the airport last year.
The departure of Ryanair had a similar effect on Tarragona's Reus airport, when the airline ceased operations in October of last year. Ryanair have since reinstated flights, with the arrival on Wednesday of this week, however, for the month of February passenger numbers flying from the airport stood at just 496 - 97.8% less than February of 2011.
The overall picture for all airports in the AENA network indicated that passenger numbers for February were down 5.6% on the same period in 2011.