Minister discusses new tax breaks with CEOE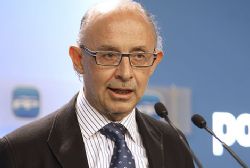 The Spanish Minister for Finance and the Economy, Cristobal Montoro, met with the CEOE Confederation of Employers last week, where he reiterated the Government's commitment to reducing both taxes and unemployment to ensure the country's return to economic prosperity.
According to the minister also spoke of the introduction of tax benefits for companies who provide new jobs.
The Minister also spoke of the Royal Decree for the payment of suppliers, for which Andalusia will receive €2,800 million, which is intended to help sustain employment and stabilize the local economy, enabling Spain's Town Hall's to pay their outstanding bills before the summer.
Montoro acknowledged the "great economic value of thie measure due to it providing an important economic boost to local government and thus to the self-employed and small and medium enterprises."