Unions outline minimum transport provision for general strike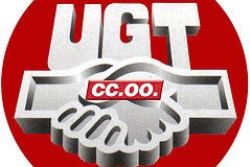 The UGT and the CCOO Unions are due to present their application to hold a general strike on 29th March with the Ministry of Development tomorrow.
The Unions intened that certain minimum services will apply, as agreed with the Ministry of Development on the 23rd of September 2010.
The AVE rail network will operate at a 20% capacity between Madrid, Seville, Malaga and Barcelona. Suburban RENFE lines will operate at a 25% capacity, rising to 30% during peak hours.
No middle or long distance routes outside of the AVE network will operate.
Flights scheduled between mainland Spanish cities will operate at a 10% capacity, 20% of scheduled flights between major European cities, and 40% of all other international flights. Flights between the mainland and the Islands will operate at 50% capacity.