Reforms 'Insufficient' : Moody's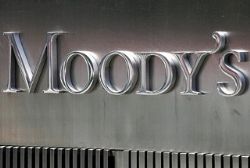 Moody's credit ratings agency Moody's issued a statement yesterday, saying how the fiscal balance in Spain remains a "challenge" despite last week' deficit revision, estimated at 5.3% of GDP by 2012.
The agency noted how although the deficit target for this year is more realistic than the initial 4.4% of GDP, the Spanish Government will have to make a number of other "substantial adjustments."
"Several measures to be taken have been identified but will not be sufficient [to achieve the 5.3% deficit of GDP by 2012]" according to the statement.
The report on the economy went on to say how the agency believes that fiscal consolidation this year will be slower than expected by the Government, and that the main obstacle to reduce the deficit to 5.3% is the regions, and that failure to take "deep structural reforms" will make it impossible to reach the 3% deficit agreed with the European Commission for 2013.