Huesca airport employs 9 staff, 21 passengers in 6 months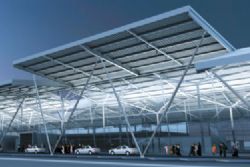 AENA have revealled how a staff of 9 workers are employed at Huesca airport, despite just 21 passengers having used the airport in the last 6 months.
The number was only recently reduced from 25 members of staff after cleaning and Cafeteria staff were axed.
The current staff numbers are centered around the operations of the Guardia Civil Helicopter being based at the airport, together with the airport's gliding club.
Huesca's neighbouring airport in Zaragoza is not doing much better, with Ryanair axing routes from the airport to Rome; Bologna; Tenerife; Las Palmas; Lanzarote and Seville, citing the airport's development commitee owing them 5.7 Million Euros in maintaining flights to the airport.
Ryanair have only agreed to keep routes between Zaragoza and London, Paris, Brussels and Milan following the payment of 1.7 Million euros.