Iberia's Barajas HQ to be open 2015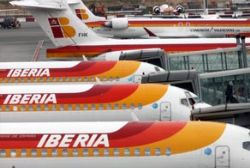 Iberia Airlines have announced plans to invest around €87 million in completing its new headquarters next to T4 at Madrid-Barajas airport, which could be operation during Q1 of 2015.
The new HQ, which was approved by AENA in 2010, will be located close to T4 and be 42,000 square meters in construction, and will come with a 50 year leasehold at a cost of €264'000 per year.
The airline's intention is to make cost savings and improve on efficiency by centralising all departments, which are currently spread betweena number of different cities and airports. Iberia recently commented that this move would save up to €13 million annually in rent, maintenance and fuel consumption alone.
However, the recent strike action by SEPLA and other unions over the creation of Iberia Express has been though to have caused a number of delays to the project.
The unions have been as yet uncharacteristically quiet about their usual complaints of such bold moves resulting in a loss of various positions.