Ministry of Development may nationalise highways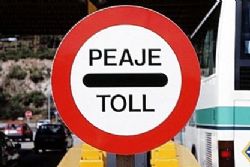 The Minister of Development, Ana Pastor, spoke yesterday of the problems faced by a number of toll roads operated by Abertis, Sacyr, Ferrovial, OHL, ACS and Globalvia, amongst others.
Many routes are not profitable following decreasing volumes of traffic and escalating costs over recent years, with the revenue generated by tolls barely covering the interest payable on the loans taken out for their construction.
The Government currently estimates that there are debts of €4 billion for the road traffic network.
In order to save the Highways from Bankrupcy Pastor has allowed a 6 month period for a viable solution to be found, which could involve toll roads becoming nationalised, or even the concession for many routes being extended to as much as 20 years.
The Minister metioned two such routes by name : The Madrid-Toledo (AP-41), operated by Isolux, Comsa, Sando and Azvi, and the Airport Hub (M-12 ) operated by OHL - both which have seen a fall in traffic due to an improvement in toll-free roads connecting the same destinations.