Repsol Canary Island Drilling 'Could Produce 140'000 Barrels per Day'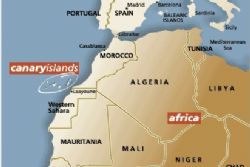 Spain's Minister of Industry, Energy and Tourism, Josť Manuel Soria, has commented how oil reserves off the Canary Islands could represent savings of 28,000 million euros.
The Minister approved preliminary exploration into the viability of further drilling for Repsol on Friday of last week.
Soria also spoke of Reposl's estimates that, if proved viable, production could reach as much as 140,000 barrels of oil per day, which would account for 10% of Spain's total requirements.
Whilst there is a 20% chance that the exploration team will find the oil reserves to be viable, this probability is still considered "High" in an industry that usually expects a 10% chance of success.
Soria reminded critics of the move that exploration is to take place 60 Km off the Coast of the Canary Islands, and that Morocco has already begun exploration in the same area.
On Monday of this week travel operator TUI e mailed a statement to tourism chiefs on the island on Fuerteventura to warn them off the impact that any oil drilling would be likely to have on visitor numbers coming to the islands.