Ryanair to launch cash passport in Spain April 15th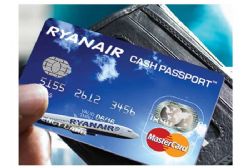 Ryanair's controversial 'Cash Passport' will be launched for spanish residents from April 15th, as a means for passengers to avoid paying the 6 Euro 'booking surcharge' when making reservations for tickets.
The Prepaid MasterCard (administered by Access Prepaid Worldwide) gives the owner a gift voucher of 10 Euros, and allows the bearer to charge the card up with money and then make purchases with it in the manner of any other credit / debit card.
The card can also be used to withdraw cash at ATMs and fto purchase goods online at any outlet which accepts Mastercard.
The card, which has also been launched in Germany, Ireland, Italy and the UK, is available from the website www.cashpassport.com / ryanair.
Ryanair's spokeman, Stephen McNamara commented "Now all Spanish residents can save even more with the 'Ryanair Cash Passport'. We therefore urge our Spanish passengers to buy their card as soon as possible to avoid the booking fees."