Spain benchmark power prices fall 7 pct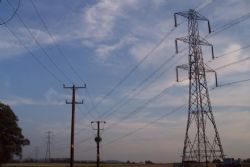 Spanish power prices used to determine controversial regulated tariffs for small consumers fell about 7% on Wednesday, industry sources said.
The "last resort" tariff is fixed at a quarterly auction and determines the price on final electricity bills to be paid in the coming quarter, along with access tariffs fixed by the government.
The auctioneer, OMIE - which also operates the Iberian Electricity Market's spot exchange - is expected to publish official results on Thursday.
Spain's government has been mulling ways to tackle the 24 billion euro "tariff deficit", which utilities have accrued due to selling electricity for more than a decade at regulated rates which do not cover nominal costs.
The government has in the past been able to fix access tariffs to offset potentially unpopular rises in the "last resort rate".
However, last week the Supreme Court upheld in principle a request by utilities that the government could not keep access tariffs down if that would inflate the tariff deficit.