Cost of fuel reaches record high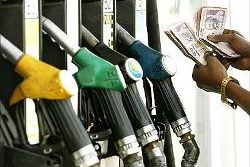 Since last week the cost of a Barrel of oil reached $125 Dollars, with the average cost for a liter of unleaded petrol has reached 1.477 Euros, and Diesel 1.399 Euros - a Spanish record high.
However, this record high has been reached despite that fact that the cost of oil is still way below it's 2008 price of $146.07 per Barrel.
The industry has explained that this is down to an increase in taxes and fluctuation between the euro and the dollar.
Since the 2008 highs, Spain has seen excise duties on oil increase, imposed a hike on IVA, increased the cost of diesel for commercial useage, and 10 of the regions have also added a 1 cent tax on the cost of fuel to subsidise their healthcare budgets.
According to the Association of Petroleum Producers (AOP), 46.9% of petrol and diesel 41.06% goes on taxes - representing a growth in tax of 7 cents per liter since 2008.
Similarly, the Euro was trading at 1.6 Dollars in 2008, but today at just 1.3% - a decline of 20%. In a country which is heavily dependant on importing almost all of it's oil, this means that Spain is unable to balance increasing costs with alternative domestic supplies.
It has been estimated that for every 10 Dollar increase in the cost of a barrel of oil, the cost to the country in relative terms in 6 billion euros.
In absolute terms, this means that the average consumer is now paying an average 6 Euros more today for a full tank of unleaded than they did at the start of the year, and 3 Euros more for diesel.
We at Tumbit can't help but wonder if today's news has been 'timed' by the Government to impact upon yesterday's news by the Ministry of Industry, Energy and Tourism, that the oil reserves estimated to be in existence off the coast of the Canary Islands could yield 140'000 barrels per day .