Ryanair forced to pay 'volcano compensation'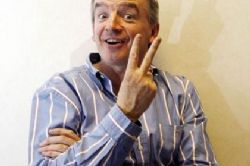 Ryanair have lost their legal battle in their refusal to pay compensation to passengers effected by cancellations to flights due to the Icelandic volvano eruption of 2010.
Under EU rules, airlines are not obliged to compensate passengers when cancellations are due to "extraordinary circumstances" , and therefore beyond their control, however, they must provide "necessary care", such as hotels, food and drink.
Ryanair's arguement is that the unprecedented widespread cancellation was so extreme that it would have cost the airline millions to offer such care to those affected, that the ruling should not apply.
The case was brought to court by one passsnger, Denise McDonagh, whose flight from Faro to Dublin was cancelled by 1 week and who was not provided with the "necessary care" required by the airline. Mrs McDonagh therefore claimed that Ryanair must compensate her for the €1,130 that she spent on food, drink and accomodation whilst waiting for her flight.
Earlier today an Advocate General of the European Court of Justice in Luxembourg gave a legal opinion that the existing term "extraordinary circumstances" must cover all such incidents - with no further considerations. Although this is not a final ruling, in the majority of cases the court upholds the ruling made by the Advocate General.