Regional deputy accuses PP of U-turn on Castellon airport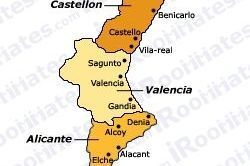 The Regional Deputy to the Valencian Parliament for the Compromis, Josep Maria Pañella, has commented how President Fabra's comments yesterday represents a U-turn on everything that the PP party has held firm until now.
President Alberto Fabra told the press yesterday that Castellon Airport must open soon, but that it could not be alloeed to open unless there were guarantees in place that it could be used by the public.
Pañella continued that "unfortunately for the taxpayer, this change of position by Alberto Fabra lhas come too late, when they have already wasted millions and millions of euros on the project" and spoke of how Castellon airport was a "discredit to nation and beyond".
He reminded Fabra how even the nation's PP Ministers were poking fun at the airport [referring to comments made recently by the Foreign Minister, José Manuel García Margallo. when he referred to the airport as "Pedestrian"].
The Compromís deputy also accused the PP of "having put the cart before the horse" in pushing forward with the project, against the will of the people and a huge financial cost to the region.
He ended by asking the premier to explain what would happen if the possibility of Castellon Airport's opening was found not to be viable.