FACUA accuse ryanair of 'fraudulent advertising'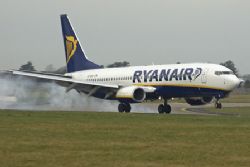 Spain's FACUA consumers association has accused Ryanair of fraudulent advertising by offering flights at prices that can often work out to be four times the initial prices advertised.
After examination of two routes offered at €10.99 it was found that the final price represented increases of anywhere between 28% to 391%, with no flights at all being available at the advertised price.
FACUA have made a fully documented report of their findings to the Secretary General for Health and Consumers affairs for a number of Spanish regionss for them to persue.
Ryanair were one of five nominees in the "Worst Company Operating in Spain" award held by FACUA, and where conumers voted for their choice on the associations website.
The results, announced this morning, saw Movistar take 1st place for a third consecutive year.