Deputy PM gives details on 'transparent government' reform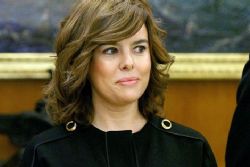 Following yesterday's cabinet meeting to implement the 'transparent government' bill, Deputy Prime Minister Soraya Sáenz de Santamaria referred to the move as being 'one of the most important reforms of Mariano Rajoy's political program'.
Spain is one of the few countries in the developed world who does not have an open and transparent government, and the reform makes good on his election campaign promise.
In opposition, Rajoy was especially critical of what he saw as corruption in a number of government departments in the PSOE administration, and so it came as little surprise that one of the main features of the reform was to ban officials from office for a period of 10 years when they have been found to have deliberately made accounting irregularities.
Other features included in the reform are the capping of salaries for public officials and a code of budget deficit compliance for the regions.
This "Transparency" will take effect in three forms : a website, which will detail all public administrations' and ministries' financial details, including salaries and contracts; the establishment of the citizen's right for access to information on how piunlic money is spent; and the good government code, which Santamaría said will carry legal weight.