New Electric Vehicle Launches in Spain Today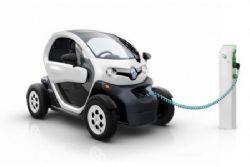 The new Renault 'Twizy' electric vehicle goes on sale in Spain today, with dealers having already taken orders for 350 cars before doors opened.
There are 2 models on offer : The '45', which is limited to speeds of 45kmph and can be driven without a driving licence, and the '80', which can reach speeds of 80kmph and requires drivers to hold a valid licence.
The retail price for the 45 comes in at €4,917 and the 80 coming in at €5.479. Each vehicle requires a special heavy duty electric battery as a fuel source which is then rented at the cost of €50 per month.
Critics insist that the vehicle is not actually a "car", as it comes without many traditional fetures such as doors and a steering wheel (using instead a joystick to steer), however doors can be fitted as an optional upgrade, although heating and air conditioning are features that have not been addressed.
Although the battery, which can be charged at home, offers a range of 100km or 3 hours driving time, Renault concede that the actual figure is closer to 60km due to varying driving styles and different road conditions.