Iberia Express to launch with 26 flights tomorrow morning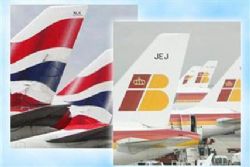 Iberia Express - Spain's newest airline - will commence operations tomorrow morning when the 07:35 flight from Alicante to Barajas tkes off. A further 25 flights will be scheduled during the first day, ending with a flight from Barajas to Malaga at 23.25.
To start with the low cost subsidiary of Iberia is planning routes between Alicante; Palma de Mallorca; Seville; Madrid and Malaga, with furher routes being added to the scheules as the year progresses.
Iberia estimate that by the end of the year Iberia Express will have processed 2.5 Million passengers.
Operations will begin tomorrow with just 4 Airbus A320 tranferred across from Iberia, with a further 10 aircraft joining the fleet by the end of the year.
The Alicante - Barajas route was previously only covered by Ryanair, who recently closed flights between the 2 cities due an average occupancy rate of just 50%.