Affects of Lorca Earthquake Discussed in Live TV Debate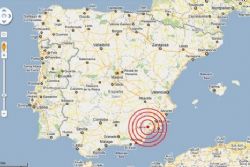 Last night, Spanish TV channel TeleCinco highlighted the hardship being endured by many Lorca residents, in the live debate show - "El Gran Debate" presented by Jordi Gonzalez.
Almost a year after the terrible earthquakes which struck Lorca in May 2011, killing 9 people and leaving several thousand homeless, affected residents are still suffering as they try to rebuild their lives.
Specifically discussed in "El Gran Debate", the financial impact has been tremendously hard and particularly cruel for many, especially for affected homeowners.
Interviews revealed that those with homes that were completely destroyed, subsequently demolished or in need or major structural reformation have struggled to keep up mortgage repayments AND pay for their current accommodation. In most cases, homeowners were already in negative equity following the Spanish property crash.
Much promised financial aid from a variety of politicians, celebrities and government organisations has been slow to filter through where it matters. Several families are still living in temporary mobile homes around the city and to date, many residents who were affected have yet to receive any insurance settlement.
To add insult to injury, many who have received insurance compensation, now find themselves in an even more difficult situation.
Insurance settlements have been far below the value of any outstanding mortgages owed by homeowners, due to the economic climate and plummeting property prices, resulting in massive mortgage deficits.
Unfortunately for residents relying on their insurance payouts to help them back onto their feet, mortgage lenders and banks have immediately seized the capital in an attempt to recover their losses and set them on a collision course with public opinion.
Presenter Jordi Gonzalez is well known for having his finger on the pulse of Spanish sentiment, which is extremely strong surrounding the Lorca earthquakes, yet unsurprisingly there is very little support for the banks.
Bowing to public pressure, several banks have agreed to pay the interest earned from insurance settlements back to homeowners however it is unclear how this will be achievable or if in fact this is simply a rebate of interest payable by paying off a lump sum early.