Italian PM worried about contagion from Spain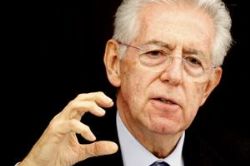 Italian Prime Minister Mario Monti expressed concern about Spain's public finances on Saturday and said it would not take much to reignite the euro zone debt crisis and revive the risk of it spreading to Italy.
Speaking at a conference by Lake Como where he was discussing the Italian government's new labour reforms, Monti praised Spain's efforts to reform its jobs market but said it had fallen behind on budget control.
Spain shocked markets last month when it said it had missed its 2011 budget deficit target and a few days later set itself a softer goal for 2012.
"It (Spain) certainly made profound reform of the labour market but it did not pay the same attention to public finances," Monti said.
"This is causing us big concern because their yields are rising and it wouldn't take much to recreate trends that could spread to us through contagion," Monti said.
He added that any fresh eruption of the euro zone debt crisis could cancel out the progress made in Italy and "take us back months."
Monti passed a €33 billion austerity plan in December, and is sticking to a target to balance Italy's budget in 2013. Meanwhile, Spain has revised its deficit target to 5.3% of GDP in 2012, softer than originally agreed under the euro zone's austerity drive.
An injection of ECB funds into the euro zone's banking system eased financial stress late last year after Italy's bond yields surged above 7%, beyond which debt costs are widely deemed unaffordable.
Spanish and Italian borrowing costs fell steadily early in 2012, with investors flush with ECB cash and increasingly confident new governments in both countries would enact reforms to tackle their financial problems.
But since Spain revealed its budget slippage, investors have been ditching Spanish bonds for Italian, in a sign that the epicentre of the crisis is shifting.
Spanish 10-year bonds yield about 5.4%, 40 basis points more than their Italian counterparts, and 80 bps above last month's lows. In November, before the ECB's first massive cash injection, they yielded almost 2 percentage points less than Italy at 6.7%.