Iberia Express launches, Pilots strike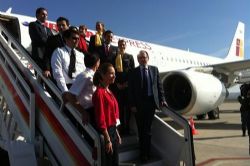 Barely 24 hours after the first flight of Iberia Express, between Alicante - at 07-35 on Sunday morning, and the SEPLA pilots union were already voicing their discontent.
An emergency meeting called this morning between the Union and executives of the new airline resulted in new strike action being called for Tuesday and Thursday of this week. This follows the cancellation of 25 dates of planned strike action little over two weeks ago.
Union officials announced that the action would comply with the law and take the same form as previous strike action, which resulted in 12 days of 24 hour strike action costing Iberia some 36 Million Euros between December and February.
The action has been called due to the belief that salaries for employees of Iberia Express will end up being lower than announced on Friday of last week.
Former Minister, Manuel Pimentel, has been called in to mediate between both parties, where it is hoped and expected that the action will not affect the busy period in the run up to the Easter Holidays.