Ryanair's 51st hub opens in Palma tomorrow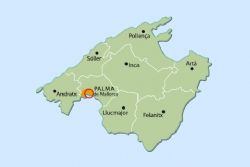 Tomorrow will mark the opening of Ryanair's new hub at Palma de Mallorca, which will become the airline's 51st base of operations.
The launch coincides with the fifth anniversary of the airline's arrival at the airport, with Ryanair's Head of Sales and Marketing in Spain, Luis Fernandez-Mellado, confirming the airport's importance to the company.
"The opening of this new base will strengthen the presence of Ryanair in the Balearic and allow us to continue to grow and be a reference in the islands."
The transfer of new aircraft to the new base in the Balearics was made possible by Ryanair's cutting of 50% of routes previously operated to and from Alicante's El Altet airport.