Iberia Express Pilots Name Further Strike Dates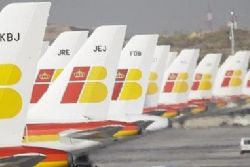 Iberia pilots yesterday announced their decision to strike action to protest the creation of Iberia Express.
The new low-cost airline was launched on Sunday with the intention of competing against budget airlines on short and medium-haul routes.
The SEPLA Pilots union voted to resume with 24 seperate days of 24 hour strike action - originally planned but called off just last week - which will take place on every Monday and Friday between April 9th and July 20th.
Spain's former minister of labour, Manuel Pimentel, had been called in to mediate between SEPLA union officials and the airline, but was unable to resolve the conflict.
Earlier last month Iberia announced how the 12 dates of strike action between December and February had resulted in cancelled flights and disruption to services which cost the airline an estimated €36 Million in lost revenues. The further 24 dates of action is estimated to effect a further 2'500 operations and result in the loss of €72 million.