General Strike to Hit Spain Thursday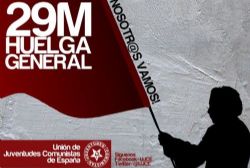 The General strike called for Thursday 29th March by the CCOO and UGT unions is intended to have far-reaching affects across Spain, in protest over the Government's recent reform of the country's employment laws.
The strike comes one day before the Spanish state budget is revealed, when further austerity cuts are expected to be made know.
The sector which will see the most disruption is transport services. In order to abide by Government rules concerning such strike action, a minimum of 10% of all domestic flights, 20% of short-haul, and 40% of long-haul flights will still be provided. However this will still result in the cancellation of around 2'500 operations.
The strike will also result in the cancellation of an estimated 600 AVE High Speed rail journeys.
Under the terms of the Spanish Constitution, a worker has the right to take strike action and has no legal obligation to notify their employer of their intention to do so. Employees who take such action can not be asked to make up their hours, nor can their duties be covered by temporary staff, however they can have their salaries docked for the period that they are absent from work for.
However, unlike other workers on strike, members of the Spanish Congress of Deputies (MPs) who who join the general strike tomorrow are not going to have a day's pay deducted from their salary.