Banco Sabadell to complete CAM purchase by December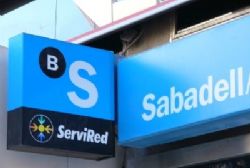 The CEO of Banco Sabadell, Miguel Montes, yesterday explained how they expect to make adjustments to the number of branches the company holds following their takeover of the CAM Bank last month, with particular emphasis on the Valencia, Murcia and the Balearic Island areas.
Sabadell will invest more than €3 Billion over the next 2 years to recover losses previously made by the CAM bank, however, Montes spoke of his intention to keep the company's employees and network of branches intact.
Montes also spoke of his desire to bring back a recognised brand of Bank back to the Valencia, Alicante and Murcia areas, but conceded that a small number of employees may be lost due to branches being consoldated in areas where there was a significant overlap between CAM and Sabadell.
Asked about the expected approval for the takeover by the Directorate General for Competition of the European Union (EU), before the puchase of the CAM bank can be officially finalised, the CEO commented how he expected a decision in the next few weeks, which would enable the purchase to be finalised before December.