Spain prepares deep budget cuts despite looming recession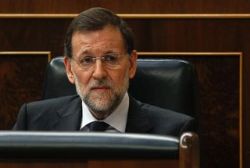 Spain will announce some of its deepest budget cuts ever on Friday, though evaporating growth prospects mean it is likely to fall short of what is needed to meet strict public deficit targets.
PM Mariano Rajoy won a concession from Brussels last month when the European Commission agreed to a softened budget deficit goal of 5.3% of GDP for this year from an original goal of 4.4%.
Spain reported a budget shortfall of 8.5% of GDP in 2011 and still faces a target of 3% next year. It can ill-afford any slippage; its bond yields have already started rising since Rajoy rejected the first target agreed with the Commission.
Rajoy said on Tuesday his conservative administration would pass a "very, very austere budget" and this year's deficit reduction goal implies nominal cuts of at least €35 billion euros.
The government faces an acute dilemma. Economists question the wisdom of pursuing harsh public spending cuts at a time when the economy is again on the brink of recession. But if it is not seen to be striving to cut debt, financial markets could push its borrowing costs back up to unsustainable levels.
"The government has a difficult task ahead considering the adverse climate the economy faces right now," Emilio Ontiveros, economist at the Madrid-based consultancy AFI, said.
Spain's economy, which grew at an average annual rate of 3.4 percent from 2001-2007, subsided into an 18-month recession in 2008 after a decade-long property bubble burst, gutting domestic demand and putting millions out of work.
Since emerging from recession in the first quarter of 2010, Spain has struggled to grow and began to contract on a quarterly basis at the end of last year. Official forecasts see the economy shrinking 1.7% this year.
Private economists are more pessimistic, with analysts at U.S. bank Citi seeing a contraction of 2.7% this year and another 1.2% in 2013.
Spain and the European Commission denied reports on Tuesday that Brussels had told Madrid to take an EU bailout to refinance the country's troubled banks, which the government has told to raise over €50 billion to rebuild balance sheets battered by the collapse of the property sector.
Some economists expect that to be the eventual outcome nonetheless.
"Spain is likely, in our view, to be pushed into a ... programme of some kind during 2012, possibly by losing access to market funding on affordable terms, but more likely by the ECB making a programme for the Spanish sovereign a condition for continued willingness to fund the Spanish banks," the Citi economists said in a note.
According to Spanish think tank Fedea, the government will need to announce savings of as much as €64 billion, while consultancy Funcas estimates the figure at a slightly lower €55 billion.
"This is, frankly, impossible ... The worst news we received during the first 100 days of Rajoy was this budget deviation," head of Fedea Luis Garicano said.
To make an adjustment of that magnitude risked a vicious circle of falling GDP, deteriorating banking sector, financial restrictions for families and companies, rising unemployment, and further GDP shrinkage, Garicano said.
ON THE BLOCK
The government, which has already announced savings of €15 billion through cuts at its ministries and tax hikes, has said it will not raise value-added tax to find the cash, and has called on the regions to decide where the axe falls.
Regional authorities, which account for around half of the country's spending budget, are the main culprits behind last year's fiscal slippage with the autonomous communities reporting a deficit that was more than double the target.
While the conservatives promised in the run-up to November's election that they would not touch health and education spending, it will be up to the regions which hold the local welfare system's purse strings.
Polls show most Spaniards are resigned to belt tightening but a surprise result at an election in the populous region of Andalucia on Sunday and a general strike planned for Thursday suggests patience is wearing thin.
The PP won the PSOE stronghold of Andalucia but did not secure the outright majority that was expected and would have reinforced Rajoy's mandate to make deep savings.
The government said on Tuesday that departmental spending cuts would be larger than originally planned - 15% rather than 12% - while opening the door to changing corporate taxes and businesses to boost fiscal revenues.
Spain's unions have called a general strike for Thursday in defiance of labour market reforms, which makes it easier for struggling companies to hire and fire, though many will join to protest austerity measures and the highest unemployment rate in the EU.
International debt markets will be watching the budget closely for any signs of weakening resolve to address fiscal imbalances as protests gain momentum and the economy slows to a crawl.
"Spain is on a very, very slippery slope now ... Country-specific risk is rearing its ugly head and Spain has some serious structural issues which are going to take years and years to resolve. This fiscal compact is self defeating," said Nicholas Spiro at Spiro Sovereign Strategy.