Spanish Unions Optimistic of Public Support for General Strike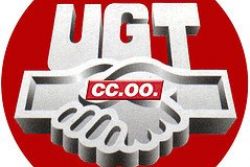 The leaders of Spain's 2 largest Unions - the UGT and the CCOO have spoken of their confidence thattoday's General strike will be widely supported by the Spanish public. However, polls of publc opinion published in a number of newspapers last weekend suggested that just 30% of the public think the time is right for such a protest.
The strike, which is expect to disrupt a number of transport services across the country, amongst other sectors, has been called in protest over the Labor Reforms introduced in February by Prime Minister Mariano Rajoy.
Whilst many are opposed to the new reforms, which make it much easier for companies to dismiss workers in the current economic crisis, and there have been two days of demonstrations throughout Spain in protest at the reform, many believe it too soon to call a General Strike against a Government which is still in it's infancy.
Similarly, many employees are hesitant about joining the strike, fearing they would be first in line to lose their jobs if cuts are required.
Despite these concerns, unions leaders are optimistic. The General Secretary of the CCOO, Fernandez Toxo, told the press : "I hope that the strike will have a large majority following in Spanish society and that it is the final signal that this government needs to open a negotiation process, which is a process they should have carried out before passing the reform by decree". He also urged the Government to negotiate with the workers to resolve any potential future conflict.
For his part the leader of the UGT, Candido Mendez, considers the action to be an opportunity to improve relations between the Government and the unions : "The government should see it as a chance to correct the labor reform and the policy of spending cuts that are hitting society. They need to reflect and realize they are weakening the system of social protection," he said.