Spain gas grid sees 2012 demand up 2.5 pct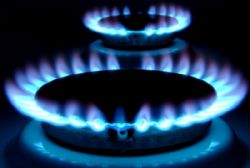 Enagas predicts gas demand in import-dependent Spain will rise by 2.5% in 2012 after the year started with heavy consumption during a cold wave, the gas grid operator's president said on Wednesday.
At a news conference, Antonio Llarden added that gas delivered to the power industry was forecast to fall by 4.7%, but "conventional" usage - by homes and industry - would increase 5.5%.
Spanish gas demand rose by 11% in February from the year before due to unusually low temperatures last month.
However, demand in 2011 as a whole dropped 7% due to coal taking up a greater share of the generating mix, and has been falling steadily since Spain's economic crisis began in 2008.
Spain is typically the world's eighth-largest importer of natural gas, of which it burned about 36 billion cubic metres last year, mostly in the form of liquefied natural gas, of which it is the fourth-biggest importer.