Airport Concession released from contract at Castellon airport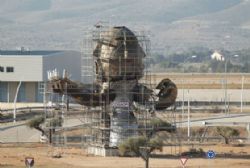 Airport Concessions have now been legally released from their contract with Aerocas to operate Castellón airport.
Although the details have not been made known, it puts an end to more than 3 months of conflict between both companies, who have at times blamed each for the airport remaining inoperational.
Airport Concession were first contracted to build the airport in 2003 and it was not until late last year when Aerocas took the decision to relieve them of their position. Aerocas, the concessionaire of the airport owned by the Generlitat Valenciana, will now decide either to appoint a new company to manage the airport, or take over the responsibility to do so themselves.
Minister of Development, Ana Pastor, has already ruled state owned airports operator, AENA, out of such a consdieration, both Carlos Fabra ( President of Aerocas) and Alberto Fabra (President of the Genralitat) are keen to invite them onboard.
Following yesterday' meeting Aerocas predicted that the ESA (Aviation Safety Agency) will award the airport the necessary licences in a matter of months, which will enable tourists to arrive by plane in Castellon.
This of course, means that the airpost is at best likely to remain closed for flights for upwards of another year, and is sure to anger local business groups who have already complained that without the tourists promised, many businesses will be forced to close this coming winter.