S&P downgrade Confederation of Spanish Banks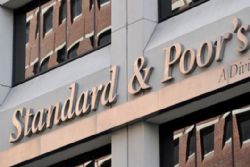 Standard & Poor's Credit Ratings Agency downgraded Spain's Confederacion Espanola de Cajas de Ahorros (CECA) from A- to BBB, citing 'a more challenging operating environment for banks in Spain', as the reason behind the move.
By comparison, the countries of Lithuania and Bulgaria also have a BBB rating.
The downgrade follows similar action taken by on a number of other Spanish financial institutions last month, and will bring CECA in line with S&P's 'anchor rating' for banks who mostly operate in Spain. The move adressed the affects of Spain's troubled economy more than any concerns of new risks from the individual bank's operations.
The outlook for CECA is stable, reflecting the agency's forecast that the bank will remain resilient in the face of risks posed by the ongoing consolidation of many Spanish banks.
CECA had been on negative watch since Standard & Poor took similar action on the country as a whole late last year, citing Spain's weakening sovereign-debt profile.At the start of 2012 the agency cut Spain's credit status to single-A and in January lowered its investment-grade credit ratings on 15 Spanish banks.
However, the agency still believes that CECA will benefit from its high importance to Spain's financial system, which means the national government would likely help the bank if it needed a bailout.
S&P said a one-notch downgrade of Spain, which maintains a negative outlook, would not automatically lower CECA's ratings, though a sovereign downgrade of two notches or more would likely drag down the bank's status.