Santander to focus on organic growth in Spain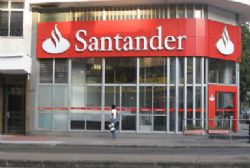 Spanish bank Santander said on Friday it wouldn't buy any of Spain's troubled lenders unless the operation meets strict financial criteria and would rather focus on reducing its exposure to the real estate sector and achieve organic growth.
Santander, Spain's largest bank by market capitalisation, has so far remained shy of participating in the second wave of banking sector restructuring in the country.
"We will not carry out acquisitions unless they fit with our strict financial criteria, which always focus on generating value for our shareholders," Santander's chairman Emilio Botin told shareholders at the annual general meeting of the bank.
"What is very clear is that we do not want growth for its own sake," he added.
Botin also said Santander would maintain a dividend for 2012 of €0.60 per share and would set reaching a core capital ratio of 10%, above the 9% requirement of the European Banking Authority, as one of its top priorities.