Spain's Budget : The Details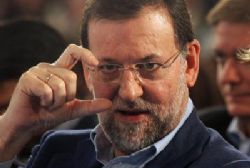 The Cabinet has this morning approved the 2012 Budget that aims to reduce the deficit from 5.1% of GDP to 3.5%, or - in financial terms - make a saving of €17,500 million.
The details include measures to cut spending and raise revenues at a time when budgets usually see a reduction in tax benefits applied to large corporations.
Such multi-nationals, who are taxed as a single enterprises, are already benefiting from tax rates that often sees them paying lower amounts of tax than many small and medium-sized businesses.
The Treasury is also considering a restriction on the 'freedom of amortization', a measure adopted by the previous government, which allows companies to account for their investment expenses on the purchase of property on a tax return in the way of their own choosing.
The PM has rejected the possibility of raising IVA, however experts have warned that this a necessary step that must be taken sooner rather than later - espcially when Spain's 18% rate of IVA is lower than many other EU countries - such as Portugal, where it stands at 23%. However, the Government has not ruled out increasing the 8% IVA rate to 18%.
The Budget also included n increase in excise duties, as these taxes are increased through royal decrees to the measure comes into force automatically.
No major changes were placed on income taxes after December's decision to increase the rate applied on revenues gained from employment by 7%.
As far as changes to the way that the Government spends it's money, there will be a 15% cut in the budgets of each Ministerial department.
The regions and induvidual municpalities will also have to implement measures to reduce spending and increase incomes in order to maintain a 1.5% to 2.9% target. It is to be noted that the regions manage their own healthcare and education budgets, which between them account for 60% of all outgoings.
The only area of Government spending which will see an increase is concerned with the payment of interest on it's loans. With regard to personnel salaries, the Government will not cut the wages of civil servants, although ithey will remain frozen.
The central government allocated €27,420 million - 18% of the total budget - to pay government salaries, which increases to €124.781 million taking into account the cost of communities and municipalities.
To date, only the Generalitat of Catalonia and Castilla-La Mancha have announced a cut in salaries of public employees.