Supreme Court rules TV station guilty of tobacco product placement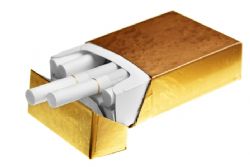 Spain's Supreme Court has upheld a claim that aims to restrict tobacco advertising on Television.
The lawsuit specifically concerned the issue of product placement on popular mainstream television programs and was filed by the Association of Communication Users (ACU) against Tobacco marketing company, Altadis SA, and Television de Galicia.
The case in question involved a number of episodes of a soap opera, which, which is cantered around a family who run a bar, with a number of scenes specifically centred around the re-stocking of the tobacco vending machine.
The Supreme Court held that this was a product placement aimed at promoting the purchase of a certain brand of tobacco products.
According to Law 28/2005 of 26 December regulating Advertising of Tobacco Products direct and indirect tobacco advertising and sponsorship is not permitted.
Even though the Law was brought into effect between the time of the episodes in question of the program being filmed and then broadcasts, the Supreme Court ruled that the TV station liable for promoting the consumption of tobacco.