Iberia Express ticket prices 'compare with Easyjet'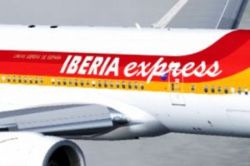 The creation of Iberia Express last Sunday has led to the obvious anticipated comparison amongst a number of low cost carriers.
Analysts and Industry observers have been comparing Iberia Express to Ryanair, Easyjet and Vueling and found that tocket prices for the new airline compare with Vueling and Easyjet, but that Ryanair are still offering the cheapest rates.
The Commercial Director for the new low-cost division of Iberia, Silvia Mosquera, explained that the cost of the ticket price alone should not be taken into consideration when making such comparisons, as the majority of their passengers us the service as means of connecting to other long-haul flights with Iberia.
Mosquera also reminded travellers that ticket prices between carriers were changing continuously, and that few budget airlines offered competing flights on the exact same routes.
However, critics of Iberia Express note that on their bookings website much of the availability is reserved or pre-allocated for passengers who may wish to book connecting flights to or from Iberia hub airports for long haul flights, making it difficult to make bookings for the short haul flights on the routes, dates and times required.