Iberia to cancel 156 flights Monday 9th April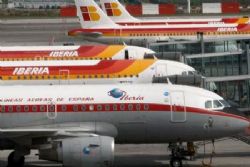 Iberia have canceled a total of 156 flights scheduled for Easter Monday, which marks the first day of strike of the 30 days of 24-hour strike action called by pilots for every Monday and Friday between 9th April and 20th July. The strike action was called by the SEPLA pilots union in protest against the creation of the budget airline cost Iberia Express.
Pilots has previously held 12 days of similar strike action coincided to disrupt busy period between December and February, which had been estimated to have cost the airline €36 Million due to the disruption caused by cancelations.
In a statement, Iberia said it has relaxed its rates to facilitate the exchange or refund of tickets to customers affected by the cancellations for the 9th of April 9, when many passengers would traditionally be flying home at the end of an Easter break.
Passengerss who bought their tickets through www.iberia.com will receive a message with further information on flight and travel alternatives, which can be made over the Internet or telephone (902 100 988 in Spain).
If passengers do not wish to make alternative arrangements a full refund will also be available.
Some of the routes affected include those linking Madrid with Seville; Jerez; Granada; Bilbao; Asturias; La Coruna; Santiago de Compostela; Vigo; Barcelona; ​​Lisbon; London; Brussels; Amsterdam; Paris; Zurich; Geneva; Frankfurt; Munich; Berlin; Vienna; Dusseldorf; Rome; Venice; Tel Aviv; Istanbul; Athens; Miami; New York; Mexico; Sao Paulo and Buenos Aries.