Ryanair to cost Costa Blanca €30 million per year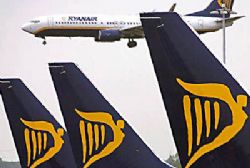 La Verdad has estimated that the loss of 1.5 million tourists being brought to the Costa Blanca as a result of Ryanair cutting flights to Alicante's El Altet airport will cost the area a total of €30 million in lost revenues over the course of the next 12 months.
This contrasts with the estimated €2 million that it would cost the airline to use the airbridges at the airport - a move forced upon three-quarters of the gates in operation at the airport's new terminal building despite an earlier agreement which stated that Ryanair could board and disembark passengers on foot.
Ryanair's third and latest appeal against the decision was overturned last week by Elche's No.3 Mercantile Court, who agreed with AENA that the move was necessary for reasons of safety.
If each of the 1.5 Million passengers expected to be lost at the airport by the move spends an average of €50 on airfares, the total amount to be lost stands at €750 Million.
However, Ryanair do not expect to lose this number of passengers, just that they will fly them to an alternative destination, and as such these losses will not be suffered by the airline themselves - the airport itself will suffer financial losses in fees, taxes and retail sales and the tourism industry on the Costa Blanca will also suffer from falling revenues amid falling tourist arrivals.