Corvera may not be fully operational until summer 2013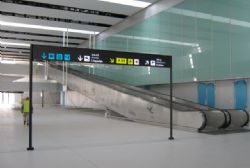 The Regional Government of Murcia are seemingly losing sight of Covera Airport being operational by the Summer of this year.
Delays caused by the change of national government, ongoing negotiations with AENA with regards to the transfer of workers and compensation for the closure of San Javier airport, and negitiations with the Minsitries of Defence and Development in reclassifying vital airspace around the airport have all pushed the opening date beyond the anticipated July period.
The schedules for Spanish airports for the Winter season is due to commence on October 28th, and it is hoped that sufficient headway will have been made to enable AENA to announce routes to and from Corvera at that time.
Furthermore, the typically quiet winter period effectively means that the airport will not become fully operational until the summer of 2013.
President Valcarcel told the press that the airport must "Do things well and with full guarantees. We will not act in haste", hinting that the problems experienced with Castellon airport must not be replicated at Corvera.
He continued that "The Ministry of Development are in favour of the new airport, and have told us that there is airspace available for 24 hours a day."
As far as San Javier airport is concerned, 18 new routes were launched for the summer period last week, with recent AENA figures for the month of February showing how the airport was one of the few in Spain to see figure increase over the Month, with 10% more arrivals than the same month a year earlier.