Castellon Airport still to pay IBI bill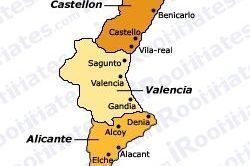 One year after the official inauguration of Castellon airport and the Ayuntamiento of Vilanova d'Alcolea, where the airport is located, is chasing Aerocas for payment of their IBI tax.
The Town Hall's Architect explained that the town has not charged for the airport since 2005, but in April 2009 they sent a letter to the Cadastre requesting that the classification of the land was updated to reflect the true value of the property, in turn claiming full payment of the 'true' value from the concession holder of the airport at the time - Airport Concessions - who were just last week finally released from their contract at the airport.
As such the aiport had enjoyed a period of non-payment between 2005 to 2009, but had paid nothing since 2009.
The Town were in turn told by the Cadastre that no such review was required until the airport was operational.
By June 2011, and with the airport open (if not operational) the then mayor of Vilanova once again sent the request to the Cadastre given that the airport was still classified as being rural land, and not reflecting it's true value.
Having still received no response from the Cadastre, the Ayuntamiento then approached the neighbouring town of Benlloch - whose land part of the airport also stands on - to find that they were in exactly the same situation.
Both muncipalities have therefore not reveived once cent of the estimated €300'000 per year 'true' IBI payment as the result of having the airport built on their land, together with the official headquarters of Aerocas and an electrical substation for the airport.
The Ministry of Finance, who are responsible for the Cadastre, have yet to communicate with the two ayuntamientos and have made no comment on the matter.